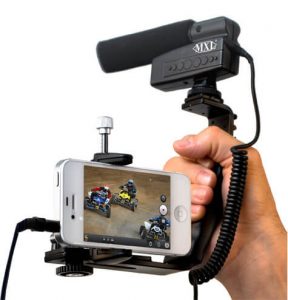 MXL microphones have joined us once again for the TPN CES live broadcast. Perry Goldstein of MXL joined us to talk about mobile media.
Mobile Media microphones are devices that will connect to any mobile connection. The 3.5 mm jack is the only consistency to these devices, therefore MXL uses these in the new line. From interview microphones, boom microphones, to boundary microphones (for stage or conference calls) — all connected to your mobile device.
"People will put up with grainy video, put up with shaky video — not centered. As soon as they can't hear, they shut it off," stated Perry.
Most mobile media microphones are self-powered. MXL is also looking into wireless microphones and latency with such. You can sync later, but live video goes straight up and you don't want audio issues.
For more information, check out mxlmics.com
[cessponsor]
Interview by Jeffrey Powers of Geekazine and Daniel J. Lewis of The Audacity to Podcast
Podcast: Play in new window | Download
Subscribe: Apple Podcasts | RSS | More