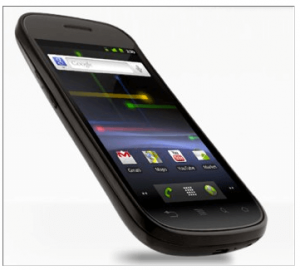 The Nexus S is the newest generation Android phone running the news Android OS, Gingerbread (version 2.3). This phone is fast, sleek, and beautiful.
Featuring both superior functionality and a stunning user-experience, the Nexus S has a brilliant Super AMOLED 4-inch touch screen that provides a premium viewing experience.
Powered by a 1 GHz Hummingbird processor, Nexus S produces rich 3D graphics, faster upload and download times and supports HD-like multimedia content. In addition, Nexus S features a gyroscope sensor to provide a smooth, fluid gaming experience when the user is tilting the device up or down or panning the phone to the left or right. It also comes with 16 GB of internal memory.
Nexus S features Near Field Communication (NFC) technology, which allows users to read information off of everyday objects like stickers and posters that are embedded with NFC chips. It's also equipped with a 5 megapixel rear facing camera and camcorder, as well as a VGA front facing camera, and features a new and improved keyboard with multi-touch support, Internet calling (VoIP/SIP support) and a clean new user interface. It also has built-in wifi and BlueTooth.
Currently the Nexus S is an unlocked GSM phone and only available from Best Buy.
Interview by Tom Newman: Fogview Podcast
Get your 14 day Free Trial of Audible Gold to start Listening to great Books!
GoDaddy services saves you money! New Customers Save 25% Promo Code CES25.
Podcast: Play in new window | Download
Subscribe: Apple Podcasts | RSS | More