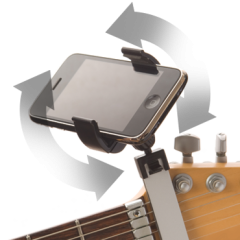 There are many smartphone-tablet holders out there. CastIV is one of them, but they look to add a little more than just a stand.
Geared toward the musician, the CastIV sidekick allows you to put your iPhone or iPod in eyeshot so you can practice your tunes. Even a Korg guitar tuner fits well in the sidekick. Just place the belt on the strings, push together and clip with the mount.
If you would rather have the iPod, Android device or iPhone on your microphone stand, well, they make an interchangable clip so you can cuff it on the stand, put the device in place and start playing.
For those iPad or other tablet owners out there, you can also get the Tab station – a mount for your iPad that connects to a tripod or microphone stand.
The Guitar Sidekick and smart station are $24.99, with the Tab station for $34.99
[cessponsor]
Interview by Jeffrey Powers of Geekazine and TechPodcasts
Podcast: Play in new window | Download
Subscribe: Apple Podcasts | RSS | More