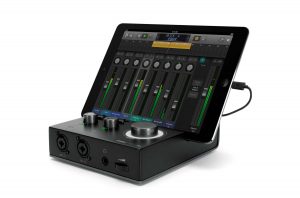 Produce your audio podcast from home or remotely from your iPad or computer with StudioConnect HD. Griffin Technology—a leader when in accessories for home, mobile, and technology—recently launched an exciting new product that will bring your podcasting into a new level.
The StudioConnect HD is an all-in-one audio interface with two TRS/XLR combo inputs, where each inputs is its own individual channel, allowing the StudioConnect HD to support multi-track recording. Each inputs also has its own gain knob and phantom power. At the back of the unit are a 5-pin MIDI connection, a USB MIDI connection for USB keyboards, and balanced stereo output for studio monitors. The StudioConnect HD is compatible with iOS (30 pin & Lightning) and OS X (USB), with future support for Windows. Plus, you can use not just your laptop or iPad, you can also use your iPod Touch or iPhone, making it even more convenient when you air your audio podcast.
Using the two stereo inputs, you can record 4-channel audio by selecting which instruments you want to use from the left and right stereo inputs. This also allows you to use multiple instrument or microphones at the same time with this USB 2.0 device. And with only $199.99, you can already own this audio interface starting this Fall. Learn more about StudioConnect HD and see how it can take your podcasting into a new height.
Interview by Daniel J. Lewis from The Audacity to Podcast.
[cessponsor]
Podcast: Play in new window | Download
Subscribe: Apple Podcasts | RSS | More