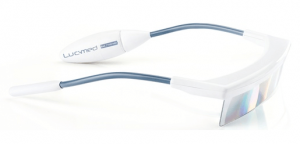 People who travel a lot as well as those who deal with the winter blues or Seasonal Affective Disorder (SAD) have one thing in common. They can benefit from a simple technology called "photo-therapy." Photo or light therapy uses the wavelengths of daylight shining in the eyes to stop production of the sleep hormone melatonin in the brain. This is also thought to contribute to some aspects of depression.
Frequent travelers and sufferers of the winter blues will find that the Luminette from Lucimed.com is a perfect tool to help them with this problem. The device resets daylight cycles in the body and reduces melatonin production. Already in widespread use in Europe, the Luminette glasses are coming to the United States soon.
Health Tech Weekly host Jamie Davis, the Podmedic chatted with Lucimed General Manager Eric Delloye about the Luminette that lets you continue working on your daily chores while you wear it, unlike many photo therapy systems that require you to sit next to a light fixture for a period of time. Check it out at MyLuminette.com.
Make sure you follow Jamie's picks and coverage over at HTWeekly.com and the Tech Podcasts Network live CES 2015 coverage over at TPN.tv during the show where our entire CES team will be bringing you the best, the most innovative, and newest tech gadgets to you from the conference! And don't forget to check out his shows for at NursingShow.com, MedicCast.tv, and the brand new Health Tech weekly show at HTWeekly.com.
Podcast: Play in new window | Download
Subscribe: Apple Podcasts | RSS | More