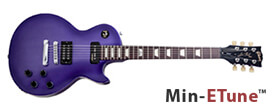 Gibson Guitars stopped by the Tech Podcast Network booth at the International CES show in Las Vegas to be one of the first honorees to receive the TPN.tv Pick Award for Innovation at CES. Their Guitars are truly changing the way we make music with auto tuning, custom tuning, and other fantastic features. Aljon Go from Gibson joined Geekazine host Jeffrey Powers and Geek News Central host Todd Cochrane on the final day at CES 2014 to get the award.
The new Gibson guitars are not just another electric guitar. They combine the class of a master crafted musical instrument with the innovation of the latest technologies in digital music creation. The Min-ETune auto tuner is a compact, battery-powered robot tuner that tunes your guitar in seconds—and delivers 80-100 tunings on one charge. Adjust the tuning pegs manually, turn on the Min-ETune to tune all six strings to perfect pitch automatically, or select any of 12 popular alternate tunings (including six you can program yourself). You can even adjust your guitar's tunings to match other instruments.
Find out more about these guitars from Gibson.com.
[cessponsor]
Podcast: Play in new window | Download
Subscribe: Apple Podcasts | RSS | More