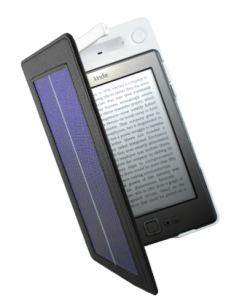 The SolarFocus Technology Company Ltd  offers a CES2012 Innovation Award product, the solar-powered Kindle Lighted Cover.
E-ink technology offers an easy-on-the-eyes lightweight reading experience with the Amazon Kindle. But if you are looking for a way to protect that screen, and make sure that your Kindle never runs out of power, this is the product for you!
Plus, with the built in light, you can read in areas without good illumination (like on long flights) or while your sleeping partner enjoys an early bedtime.
Interview by Andy McCaskey of SDRNews for the TechPodcast Network.
[cessponsor]
Podcast: Play in new window | Download
Subscribe: Apple Podcasts | RSS | More