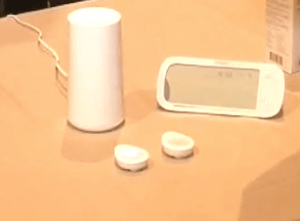 Health Tech Weekly host Jamie Davis, the Podmedic visits the iHealth booth at CES Digital Experience event in Las Vegas to find out about their new system for helping seniors without smartphones or similar mobile devices. iHealth is known for their connected health assessment tools for the home user like blood pressure machines, blood sugar monitors, and other health devices.
The challenge for many people has been that all those devices have required someone to use a smartphone or tablet to make the most of the connected features and apps. That has all changed now that iHealth is offering their new connected hub for the home that collects data from all their connected devices and transmits that data securely to their web application for the home user to access on their computer using a normal web browser.
The data can also be shared with family members or even the user's health care professional like a doctor or nurse monitoring them remotely. The iHealth Discover will be available by the end of 2015. You can find more information from iHealth about their products and services at iHealthLabs.com.
Make sure you follow Jamie's picks and coverage over at HTWeekly.com and the Tech Podcasts Network live CES 2015 coverage over at TPN.tv during the show where our entire CES team will be bringing you the best, the most innovative, and newest tech gadgets to you from the conference! And don't forget to check out his shows for at NursingShow.com, MedicCast.tv, and the brand new Health Tech weekly show at HTWeekly.com.
Podcast: Play in new window | Download
Subscribe: Apple Podcasts | RSS | More