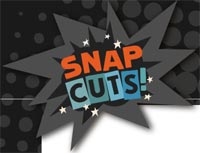 Bee Ottinger from Snapcuts joins us on CES TPN Live coverage. She talks about how SnapCuts can be used to put together a video card. From simple thanks, to congratulations, and much more.
They use video clips that are in the public domain – and there is a lot in the public domain (check out archive.org). They create clips, which you can browse over at their website. When you find a clip you want to use, just put it in the video pane on the bottom.
When done, send off your message to friends and loved ones. The site is free – just register and start using Snapcuts. The site is still in beta and adding new clips all the time.
Interview by Jeffrey Powers of Geekazine and Andy Smith of Geocaching World.
[cessponsor]
Podcast: Play in new window | Download
Subscribe: Apple Podcasts | RSS | More