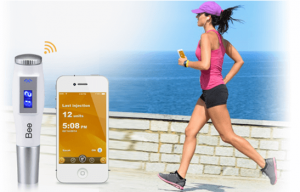 One of the most exciting technology innovations seen each year at the International CES conference are those that help people manage chronic diseases like diabetes. Nearly 350 million people worldwide live with diabetes every day. Coming up with new tools to help them effectively manage their illness and stay healthy is one of the goals of many new technology companies.
Health Tech Weekly host Jamie Davis, the Podmedic got the chance to interview Richard Binier from USVigilant.com about their diabetes management tools. Their award-winning tools like the Bee Insulin dose tracking device help diabetes patients manage their illnesses better and keep them healthier than those who may not be using these types of tools.
The Bee from Vigilant attaches to most commercially available insulin dosing pens and connects wirelessly to a smartphone app to track insulin dose amount and time for the patients. This is available now and other soon to be released diabetes management tools are coming soon!
Make sure you follow Jamie's picks and coverage over at HTWeekly.com and the Tech Podcasts Network live CES 2015 coverage over at TPN.tv during the show where our entire CES team will be bringing you the best, the most innovative, and newest tech gadgets to you from the conference! And don't forget to check out his shows for at NursingShow.com, MedicCast.tv, and the brand new Health Tech weekly show at HTWeekly.com.
Podcast: Play in new window | Download
Subscribe: Apple Podcasts | RSS | More