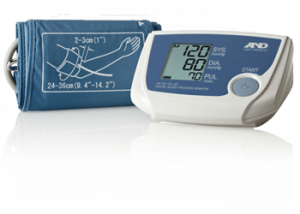 Health Tech Weekly host Jamie Davis, the Podmedic visited the Digital Health Pavilion at the International CES 2015 in Las Vegas to find the latest tech, tools, and information on digital health for consumers. He stopped by the AND Medical booth to talk with CEO Terry Duesterhoeft about a recent study they commissioned to determine how open consumers wish to be with the data from home health connected devices.
AND Medical makes many home health monitoring devices like blood pressure machines and they wanted to find out how much information consumers were willing to share with their health care professionals and other caregivers. They were surprised by how open consumers were willing to be with their health data in a protected environment in order to help them get healthier.
Most people were willing to share some or all of their collected health data with their doctors, nurses and other caregivers. This seems to go against the belief in professional health circles that considers consumers much more privacy conscious. Find out more about AND Medical's connected health tools for consumers and health professionals at andonline.com/medical.
Make sure you follow Jamie's picks and coverage over at HTWeekly.com and the Tech Podcasts Network live CES 2015 coverage over at TPN.tv during the show where our entire CES team will be bringing you the best, the most innovative, and newest tech gadgets to you from the conference! And don't forget to check out his shows for at NursingShow.com, MedicCast.tv, and the brand new Health Tech weekly show at HTWeekly.com.
Podcast: Play in new window | Download
Subscribe: Apple Podcasts | RSS | More