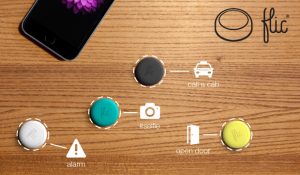 Lots of talk surrounded the Shortcut Labs booth at Eureka Park this year at CES. The company had taken to Indiegogo to launch a new product, Flic, that is set to make life easier with the literal touch of a button.
This Bluetooth-enabled, programmable button has three different ways to press it, and each of those can be programmed for a specific task using the Flic app. Whether you want to select a certain playlist on Spotify, navigate to a destination on your GPS app or create your own command, all of that can be done with Flic.
A 6-pack was going for $99 on Indiegogo during CES, and Shortcut Labs managed to blow past their goal reaching over $700,000 in funding, 801% of their goal. That's a truly impressive feat for something so unique, and it's simplicity is what wins over consumers.
Interview by Nicholas DiMeo of F5 Live: Refreshing Technology for the Tech Podcast Network.
Sponsored by:
From laptops and Lumia to Surface and Xbox, get it at the Microsoft Store.
Welcome to the Eureka! Factory, where great programs, projects, events and creative spaces and places happen!
Follow F5 Live: Refreshing Technology on Twitter: PLuGHiTzLive; Facebook: F5 Live; Google+: PLuGHiTz Live
Podcast: Play in new window | Download
Subscribe: Apple Podcasts | RSS | More