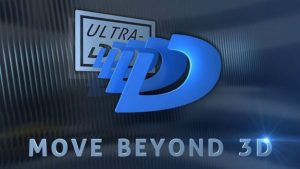 One of the things that were considered a "sleeper pick" in this year's CES trends was 3DTV and gaming combining on the big screen in your living room. Up until now, the implementation hasn't really been great and the technology used has caused eye strain for many who have used it. Luckily StreamTV Networks' Ultra-D product looks to alleviate all of that with their latest announcement.
Introducing a glasses-free 3DTV experience for gamers and TV-watchers alike. For the TV, standing in a certain spot isn't required. The 4K TV's cones overlap, giving 140-degrees of viewing angle, and comes in different sizes all the way up to 89″. You can also set the depth of the 3D, so for sports you can tune down the 3D effect but can turn it up when you want to. This is one of the few on the show floor where my eyes different hurt when I was viewing the TV.
For gamers, the company has partnered up with a bunch of different game developers in order to create a gaming experience unlike any other. On that list of dev studios is Epic Games, who you may know as the creators of the Unreal Engine. The company also wants to target any developer who wants to use the Unreal or Unity engine and also wants to add in a 3D experience via the SDK. All five companies that have partnered with Ultra-D so far had the 3D up and running in 25 hours or less.
The key here is the zero-latency method that is used in order to not frustrate gamers, especially those who play first-person shooters or other "twitchy" game titles. Game developers, like you, also hate lag. So to make 3D work, it's all done through algorithms that create a real-time depth map of the camera that is already in place, leaving essentially no extra work for the developer. This conversion process causes 4 milliseconds of lag, however, the SDK eliminates the lag entirely. It just needs a little bit of information from the video game and puts little stress on the GPU in order to make that happen.
If you're a developer and want to get a hold of this, you can visit www.movebeyond3d.com. They are also working on launching some hardware in a style similar to the Oculus Rift, just to get it out there and get people to use it.
Interview by Nicholas DiMeo of F5 Live: Refreshing Technology for the Tech Podcast Network.
Sponsored by:
From laptops and Lumia to Surface and Xbox, get it at the Microsoft Store.
Welcome to the Eureka! Factory, where great programs, projects, events and creative spaces and places happen!
Follow F5 Live: Refreshing Technology on Twitter: PLuGHiTzLive; Facebook: F5 Live; Google+: PLuGHiTz Live
Podcast: Play in new window | Download
Subscribe: Apple Podcasts | RSS | More