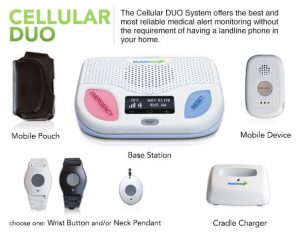 MobileHelp.com's base station home monitoring system has been around for a while now. This personal emergency response system allows primarily senior citizens to get help when they have a personal emergency.
There's a mobile wearable component that allows the individual to leave the home and travel about and a home base station that keeps track of the person at home. The wearable component includes an automatic fall detection sensor as well as a panic button that allows the individual to press for alert in an emergency situation other than a fall.
That would be a lot of functionality all by itself certainly. The team at MobileHelp have now added low energy Bluetooth capability to allow the base station and cloud software to communicate with other medical devices like electronic blood pressure cuffs, blood sugar glucometers, bathroom scales and more. Check out the whole system at MobileHelp.com.
Make sure you follow Jamie's picks and coverage over at HTWeekly.com and the Tech Podcasts Network live CES 2015 coverage over at TPN.tv during the show where our entire CES team will be bringing you the best, the most innovative, and newest tech gadgets to you from the conference! And don't forget to check out his shows for at NursingShow.com, MedicCast.tv, and the brand new Health Tech weekly show at HTWeekly.com.
Podcast: Play in new window | Download
Subscribe: Apple Podcasts | RSS | More