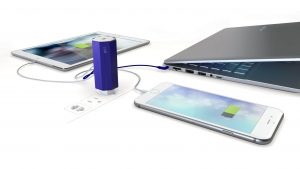 The Zolt Laptop Charger Plus is not your average laptop charger. First, it is the size of a roll of quarters and only weighs three ounces; second, it has three integrated USB ports so that you can charge any mobile device as well. The Zolt uses a proprietary, high voltage, USB based connector that has multiple interchangeable ends so you can use it with most laptops. The Zolt will also soon support Apple MacBooks, with a special adapter sold separately.
The Zolt charger uses special technology called ERC (Efficient Resonant Control) that analyzes the devices that you plug in to, and puts out the exact charge needed by that device. The three USB slots on the Zolt Laptop Charger Plus can each be used to charge a mobile device, however only the top port is powerful enough to charge a laptop. A special "key" in the end of the included laptop cable, keeps the user from plugging it into the wrong port.
The Zolt Laptop Charger Plus is available for pre-order now at a special price of $79.99. It will cost $99.99 when it comes to market later this year. If you would like more information, you can check out the website at GoZolt.com.
Interview by Chris Davis for the Tech Podcast Network
Podcast: Play in new window | Download
Subscribe: Apple Podcasts | RSS | More