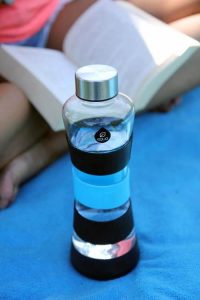 It's always great to see startup success stories at the International CES expo and Matej Marjanovic's H2O Pal is one of those success stories. Matej chats with Health Tech Weekly host Jamie Davis, the Podmedic about his invention that helps users track and maintain their hydration.
The H2O Pal attaches to your water bottle and connects wirelessly to your smartphone on the H2O Pal app to track how much water you drink and to help you remember to stay hydrated. Matej is a student at Penn State University who came up with this idea and is at the CES show to share it with potential buyers and consumers.
He is just one of the amazing success stories that are showing off their innovative ideas and products at the conference. You can find out more about H2O Pal at H2OPal.com. Check it out!
Make sure you follow Jamie's picks and coverage over at HTWeekly.com and the Tech Podcasts Network live CES 2015 coverage over at TPN.tv during the show where our entire CES team will be bringing you the best, the most innovative, and newest tech gadgets to you from the conference! And don't forget to check out his shows for at NursingShow.com, MedicCast.tv, and the brand new Health Tech weekly show at HTWeekly.com.
Podcast: Play in new window | Download
Subscribe: Apple Podcasts | RSS | More