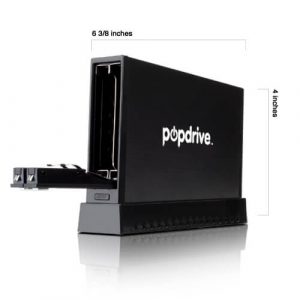 If you have a USB external drive and not backing up your data from it, you are putting your data at risk. A USB hard drive could crash just as easily as a Notebook or Desktop hard drive – if not, faster.
PopDrive has another solution. Dual drives in a RAID 0 configuration. One drive collects and the other drive mirrors. That way if the first drive breaks down, the other one takes over.
PopDrive is a drive that can work with USB 2.0 or eSATA. It takes 2 – 2.5 inch drives and transfer up to 3GB/s (eSATA). The drives mirror when connected to the PC or Mac.
Perfect for home or office, this drive could be a great asset to hold data for clients. It's size makes it perfect for those who have portable offices.
Interview by Jeffrey Powers: Geekazine
Get your 14 day Free Trial of Audible Gold to start Listening to great Books!
GoDaddy services saves you money! New Customers Save 25% Promo Code CES25.
Podcast: Play in new window | Download
Subscribe: Apple Podcasts | RSS | More