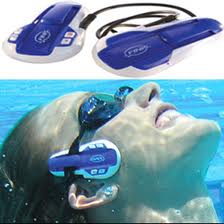 SwiMP3.1G is the name of this innovative product for the swimmer who don't want to risk damaging their earbuds.
It is super-easy to attach this device to the strap of your swim goggles. It sounds much better than you expect. If I ever get started swimming as my doctor tells me to, I'm getting one of these.
Bone conduction sounds funky and some people might be shaking their heads but I think we are only seeing the beginning of this technology. I think Navy Seals would enjoy this one!
Get your 14 day Free Trial of Audible Gold to start Listening to great Books!
GoDaddy services saves you money! New Customers Save 25% Promo Code CES25.
Podcast: Play in new window | Download
Subscribe: Apple Podcasts | RSS | More