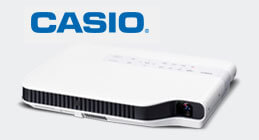 Casio came on to the live show to talk about the Casio GreenSlim projector. At 1.7 inches high, this is a great mobile presentation projector.
There is no mercury lamp in the projector. The GreenSlim projector provides 3,000 Lumens of brightness for this 5 pound projector. They use laser and LED light source. They can get 20,000 hours out of this projector. They are also extending the warranty to 5 years. This will give you a 120 inch projection in any lighted room.
The GreenSlim has an instant-on, instant-off. That means no waiting for the lamp to warm up, so you can turn on the projector and start presenting. With VGA, HDMI and composite input, you can get resolutions of XJ 1024×768 and wide XJ at 1280×800.
The Slim line of projectors also runs with a mobile application called Mobishow – You will be able to wirelessly connect via your mobile device straight to the projector.
The GreenSlim starts at $999, but with the longer lasting light, you can see a better return on investment.
Interview by Jeffrey Powers of Geekazine and Steve Lee of Waves of Tech
[cessponsor]
Podcast: Play in new window | Download
Subscribe: Apple Podcasts | RSS | More