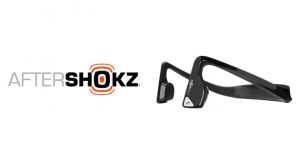 Last year at CES we learned about Aftershokz – a company that was working on bone conductive technology so you can listen to music and still hear around you. Jamie and I interviewed Aftershokz last year. I have been using the headphones from time-to-time during the year and they really work well when I need to keep my ears open for other things.
Aftershokz at Last Gadget Standing 2013
Aftershokz will be part of Last Gadget Standing 2013. They will be debuting their Aftershokz Bluez -a new wireless Bluetooth headset. This will be perfect for iPhone or Android since there are no wires. It's even been speculated that Apple TV will be turning on the Bluetooth option in the 2nd and 3rd gen set top box. This means you could connect the Aftershokz to the Apple TV and listen without having the TV blare across the room.
Aftershokz Bluez will be $89.95 when available. Check out the company at www.aftershokz.com