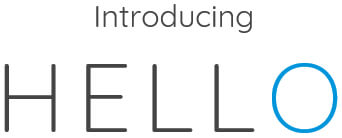 As technology grows, we are expecting bigger, better, and greater ways to communicate. Solaborate will meet all of your expectations and more with their new high end device, Hello. You can easily transform any television set into a video conference center, wireless sharing device, live broadcast hub, and home security surveillance.
Solaborate made a convenient cross platform application that allows you to push voice calls, video calls, text messages, live broadcasts, or any other compatible streaming content to your TV by just a swipe on your phone or tablet. If you would prefer to start Hello hands-free you're in luck because it is installed with Alexa integration and is working with the community to provide options of your platform preference.
Purchase your Hello today for a limited offer of $189 from Indiegogo and get lifetime support. When Solaborate goes live, Hello will retail for $249.
Interview by Daniele Mendez of The New Product Launchpad for the Tech Podcast Network.
Sponsored by:
Declare war on crappy earbuds and treat yourself to a better headphone experience with new Monster headphones.
Blast to the future with the Monster Blaster: the boombox reimagined.
Meet the Microsoft Surface family, the most productive devices on the planet.
Follow TPN on Twitter: Techpodcasts; Facebook: TPNTV; Google+: TPNTV
Podcast: Play in new window | Download
Subscribe: Apple Podcasts | RSS | More