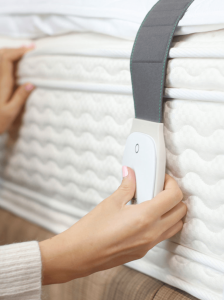 Sleepace RestOn sleep monitoring device helps you sleep more effectively, improving rest and overall health. Besides monitoring real-time heart rate and respiratory rate, RestOn can also keep a comprehensive score of your sleep. Sleep time and duration, number of times waking up and/or turning over and leaving the bed as well as breathing and heart rate are analyzed to determine the actual sleep quality.
With this data, you can take steps to improve your sleep cycles. The data can be exported using the Sleepace mobile app. You can use that data and information to start a conversation with you health care provider should you be concerned about medical problems like sleep apnea.
The accompanying mobile app provides scientific evaluation and smart analysis of individual sleep report and status of each person. The app provides sleep consultation, tips and suggestions for exercise, diets, sleep habits, etc. to help users create their perfect personal sleep plan and improve their sleep quality. The Sleepace App is also connected to a family cloud account in which you can check and compare your family members' sleep reports and status wherever you are.
The Sleepace RestOn is available now at Amazon for $149.00.
—-
Jamie Davis is the host of Health Tech Weekly which can be found at HTWeekly.com. He is a nurse, paramedic, and health journalist.
Support our CES Sponsor:
30% off all New GoDaddy Product Orders cjcgnc30
$.99 .com New or Transfer cjcgnc99 @ GoDaddy.com
$1.00 / mo Economy Hosting with a free domain! Promo Code: cjcgnc1hs
$1.00 / mo Managed WordPress Hosting with FREE Domain! Promo Code: cjcgncwp1
GoDaddy Promo Codes always save you money, check out our Promo Codes Today
Podcast: Play in new window | Download
Subscribe: Apple Podcasts | RSS | More