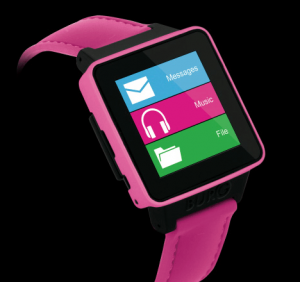 Wearable devices are becoming a huge sector of the consumer electronics marketplace and at the International CES show in Las Vegas this year the Tech Podcast Network saw that again and again. Health Tech Weekly host Jamie Davis, the Podmedic and F5Live.tv host Nick DiMeo were manning the TPN.tv booth and interviewed Steven Jay, VP of Marketing from Burg watches.
Burg makes high-end designer watches and have introduced a new line of connected watches with notifications from a built in wireless chipset. You don't have to connect your other smartphone to this watch, it is its own smart connected device.
Smartwatches are now more than just a geek gadget. Smartwatches have the future! More and more people now see how clever it is to have your phone strapped around your wrist for a quick check, whenever you want, wherever you are. Imagine being able to look at your wrist instead of your phone to check that message or to watch your favorite clip.
Make sure you follow Jamie's picks and coverage over at HTWeekly.com and the Tech Podcasts Network live CES 2015 coverage over at TPN.tv during the show where our entire CES team will be bringing you the best, the most innovative, and newest tech gadgets to you from the conference! And don't forget to check out his shows for at NursingShow.com, MedicCast.tv, and the brand new Health Tech weekly show at HTWeekly.com.
Podcast: Play in new window | Download
Subscribe: Apple Podcasts | RSS | More