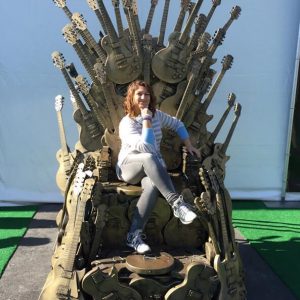 Whether you play guitar or not, you almost certainly know Gibson. The company is best known for carrying on the tradition of Les Paul, who was the creator of one of the first, and certainly best-known, solid-body electric guitars. The Les Paul line of guitars carries on in the visual tradition, making them incredibly distinctive.
This year, which would have been his 100th birthday, the company is celebrating by enhancing his legacy through enhanced and additional products. For example, his signature, as well as the number "100" in his handwriting, has been added to each guitar. There is also a hologram of what is believed to be the final photo of Les Paul on the back.
In the technology of the guitar, the company has made their robot guitar smaller, and will include it with every Gibson USA guitar this year. For those who do not know, this feature allows you to choose a tuning, and the guitar tunes itself. It requires no wood be removed form the guitar; instead, it sits at the top behind the tuning knobs.
As Daniele is a big fan of Gibson, and is really into their guitars, she was curious which Gibson guitar a beginner should own. Check out all of the cool new features of the Gibson guitars.
Interview by Daniele Mendez of F5 Live: Refreshing Technology for the Tech Podcast Network.
Sponsored by:
From laptops and Lumia to Surface and Xbox, get it at the Microsoft Store.
Welcome to the Eureka! Factory, where great programs, projects, events and creative spaces and places happen!
Follow F5 Live: Refreshing Technology on Twitter: PLuGHiTzLive; Facebook: F5 Live; Google+: PLuGHiTz Live
Podcast: Play in new window | Download
Subscribe: Apple Podcasts | RSS | More