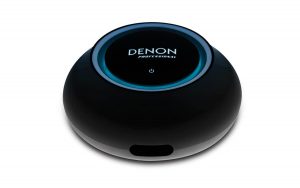 Nick DiMeo from F5Live.tv and Jamie Davis, the Podmedic from Health Tech Weekly got the chance to sit down and chat with Eric Palonen from Denon Pro while at CES 2015 in the TPN.tv Live Broadcast Booth. Eric was there to talk about the KUDO wireless presentation hub. The KUDO connect wireless mobile devices and laptops to video projectors and monitors for presentations.
KUDO uses familiar Android apps to access content and manage meetings and features intuitive setup and switching between sources. It supports new video standards like 4K Ultra HD monitors and 3D video so it can grow with your presentation content. Each KUDO has two USB ports, a micro SD slot and and HDMI output and Ethernet port. There is also a remote control included.
Find out more about the KUDO and other Denon Pro tools debuted at CES here.
Make sure you follow Jamie's picks and coverage over at HTWeekly.com and the Tech Podcasts Network live CES 2015 coverage over at TPN.tv during the show where our entire CES team will be bringing you the best, the most innovative, and newest tech gadgets to you from the conference! And don't forget to check out his shows for at NursingShow.com, MedicCast.tv, and the brand new Health Tech weekly show at HTWeekly.com.
Podcast: Play in new window | Download
Subscribe: Apple Podcasts | RSS | More