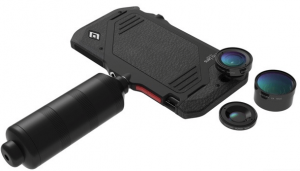 Health Tech Weekly host Jamie Davis, the Podmedic was manning the CES 2015 Tech Podcast Network booth when Jeff Sasaki from Element Case came by to talk about their new partnership with Schneider photographic lenses. Element Case has combined the high quality lens designs from Schneider with their award-winning cases for iPhones 6 and 6 plus. The new photo cases will feature interchangeable lenses of different types to allow for phone photographers to pick the perfect lens for their situation.
Industrial designer Jeff Sasaki purchased his first iPhone, but with one small problem: his Australian Cattle dog Sprocket had previously chewed up his last 5 mobile phones. Add to this a couple of phones destroyed by crashing a mountain bike and a snowboard, Jeff was determined to protect his new Apple gem. The Element Case company was born. Since then they have designed and created some of the best cases on the market and the new offerings for the photographers out there is making it even better.
Find out more about Element Cases here.
Make sure you follow Jamie's picks and coverage over at HTWeekly.com and the Tech Podcasts Network live CES 2015 coverage over at TPN.tv during the show where our entire CES team will be bringing you the best, the most innovative, and newest tech gadgets to you from the conference! And don't forget to check out his shows for at NursingShow.com, MedicCast.tv, and the brand new Health Tech weekly show at HTWeekly.com.
Podcast: Play in new window | Download
Subscribe: Apple Podcasts | RSS | More