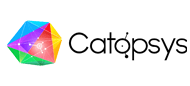 One of the problems with gaming is how easy it is to lose your sense of immersion. When your television is across the room, no matter the size, it is easy to get distracted by other things in the room. That is the problem Catopsys is trying to solve with Immersis.
This 180 degree projector can scan your room and turn half of it into a fully immersive video experience. Any game can be easily adapted to passively support the wrap-around projection, but that is just the beginning. If the product catches on, developers can begin to take advantage of the extended real estate for extending the gameplay, not just the environment.
The product is not yet available, though they are running a Kickstarter campaign where you can get quite a discount on the MSRP. If you are a game developer or a really hardcore gamer, this might be the next gaming accessory you need.
Interview by Scott Ertz of F5 Live: Refreshing Technology for the Tech Podcast Network.
Sponsored by:
From laptops and Lumia to Surface and Xbox, get it at the Microsoft Store.
Welcome to the Eureka! Factory, where great programs, projects, events and creative spaces and places happen!
Follow F5 Live: Refreshing Technology on Twitter: PLuGHiTzLive; Facebook: F5 Live; Google+: PLuGHiTz Live
Podcast: Play in new window | Download
Subscribe: Apple Podcasts | RSS | More