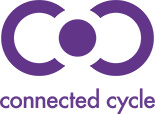 Connected Cycle is a bike pedal that connects to an existing bicycle that helps you keep track of the location of your bike. If you are riding it, it will keep track of your path and let you know things like distance traveled and calories burned. If you are not with the bike, it will alert you that the bike is in motion and allow you to keep track of where it has gone.
With a built-in internet connection, you never have to worry that it will be too far out of range to alert you of position. You can even bike without your phone and still log your route. It is especially important for keeping track of theft.
One of the really great things about the pedal is that it never needs to be externally charged. Using the motion produced by biking, the pedal is able to charge itself whenever it is in motion. The product is not yet available, but they will be launching a crowd funding campaign in the coming months.
Interview by Scott Ertz of F5 Live: Refreshing Technology for the Tech Podcast Network.
Sponsored by:
From laptops and Lumia to Surface and Xbox, get it at the Microsoft Store.
Welcome to the Eureka! Factory, where great programs, projects, events and creative spaces and places happen!
Follow F5 Live: Refreshing Technology on Twitter: PLuGHiTzLive; Facebook: F5 Live; Google+: PLuGHiTz Live
Podcast: Play in new window | Download
Subscribe: Apple Podcasts | RSS | More