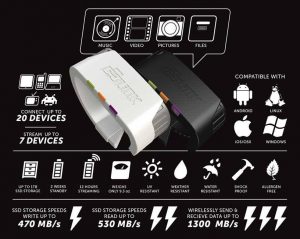 The Link is a small, solid state, wireless hard drive that you wear on your wrist. It uses a multitude of wireless technologies to connect to your computer or mobile device, such as bluetooth, wifi, wifi direct, and even NFC. The best part is that it will always default to the fastest available technology. It even charges wirelessly.
The Link's battery life is another great selling point. It has two weeks of standby time, and it can stream hd video for 12 hours on one charge. Yes, you read that correctly, 12 hours. It should last longer than the device you are viewing the video on. 20 devices can be connected to the Link at once, and it can stream data to up to seven at a time. It is compatible with Android and iOS (with the use of the Link app), Mac, PC, and Linux. It can have up to 1TB of storage, is UV resistant, water resistant, and shock proof.
The Link has 38 days left on its Indiegogo campaign, but the project will still be funded even if it doesn't make the goal. You can preorder it through the campaign for $199, $279, $449, and $799 for the 128GB, 256GB, 512GB, and 1TB models respectively. If you want more information about the Link, check out their website LinkBand.io.
Interview by Chris Davis for the Tech Podcast Network.
Podcast: Play in new window | Download
Subscribe: Apple Podcasts | RSS | More