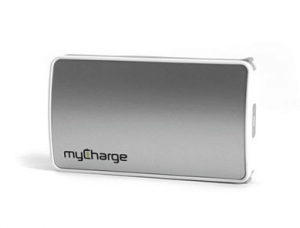 One thing that many people don't consider for their smartphone and other portable health tech devices is where they'll get backup power when they are mobile. MyCharge is probably the best option for this need. Health Tech Weekly host Jamie Davis, the Podmedic stopped by the MyCharge booth to get a look inside their private area and look over the selection of highly personalized backup charging tools there.
MyCharge mobile charging solutions are the mobile battery backups of choice for Jamie and his family because of their solid construction, innovative and sleek design and the host of accompanying features that make ease of use perfect for nearly any situation. They make it easy to charge your devices with built-in cables for your smartphones and USB charging devices and many of their products have built-in AC prongs so you can just flip them open and plug right into any wall outlet to recharge the battery.
Make sure you follow Jamie's picks and coverage over at HTWeekly.com and the Tech Podcasts Network live CES 2015 coverage over at TPN.tv during the show where our entire CES team will be bringing you the best, the most innovative, and newest tech gadgets to you from the conference! And don't forget to check out his shows for at NursingShow.com, MedicCast.tv, and the brand new Health Tech weekly show at HTWeekly.com.
Podcast: Play in new window | Download
Subscribe: Apple Podcasts | RSS | More