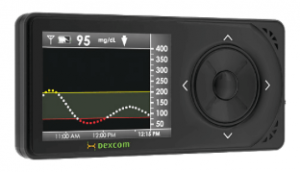 Terry Gregg, CEO of Dexcom, chats with Chris Montera, guest host with Health Tech Weekly, about the new continuous glucose monitoring system from Dexcom debuting at the International CES conference earlier this month in Las Vegas. The Dexcom G4 Platinum glucose monitor is the all-new Continuous Glucose Monitor featuring an extended 20 foot wireless range, glucose trends on a video monitor in vibrant color and a sleek and small receiver available in three colors – Classic Black, Ocean Blue, and Tickled Pink.
Continuous glucose monitoring is important for diabetes patients because their bodies lack the ability to monitor and regulate their glucose levels on their own. With the new "Share Cradle," the uses can insert their wireless monitor for charging and also upload their monitoring data on their connected mobile device to up to 5 people. These can be family caregivers like a parent or adult child as well as health care professionals caring for the patient. The follower app allows those care givers to see what is going on with their loved one in real time via the direct connection with the continuous blood glucose monitor.
[cessponsor]
Find more segments from the Digital Health Pavilion at CES 2014 both here and at the Health Tech Weekly podcast site with host Jamie Davis, the Podmedic.
Podcast: Play in new window | Download
Subscribe: Apple Podcasts | RSS | More