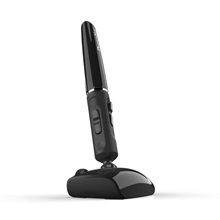 Penclic is a Swedish company that has an innovative new take on the plain old computer mouse.  The mouse actually looks a bit like a pen resting in a fountain, as it protrudes from the top of the small mouse.  This allows the user to control the movement in a more ergonomic manor, more like old fashioned writing than actually elevating the wrist to move a traditional mouse.
At the moment the Penclic mouse is only available in a right-handed model, but lefties won't need to wait long for their version.  The pen shaft actually rotates so that each user can find the most comfortable position for  his or her self.  The left, right, and center click buttons are all located on the "pen", which also has two additional buttons for web surfing – back and forwards.  The mouse is wireless and has a small rechargeable battery.
You can see the mouse demonstrated in the video below. You can buy it from many retailers in the U.S., including Amazon for an MSRP of $89.  You can also visit Penclic on the web, but the site is in Swedish.
Interview by Jeffrey Powers of Geekazine.
Podcast: Play in new window | Download
Subscribe: Apple Podcasts | RSS | More