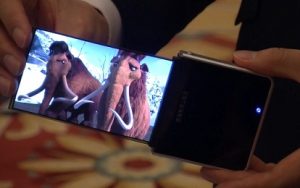 The screens inside phones like the Samsung Galaxy S, are called "Active Matrix Organic Light Emitting Diode (AMOLED)". These flat screens give you a high quality in such a small device. The screen is so thin, it can be bent – if needed.
At CES we saw the Super AMOLED screens outside the devices. You can touch, flick and especially bend them. When they are in your smartphone, the brighter picture will bring a 20% longer battery life.
Interview by Jeffrey Powers of Geekazine
Get your 14 day Free Trial of Audible Gold to start Listening to great Books!
GoDaddy services saves you money! New Customers Save 25% Promo Code CES25.
Podcast: Play in new window | Download
Subscribe: Apple Podcasts | RSS | More