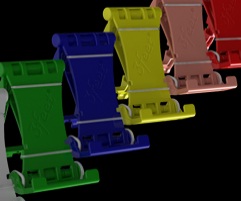 It's always cool to see a person get inspired by a new technology. In this case, it's about holding a smartphone or tablet on a long flight. That is what inspired 3 Feet – a stand for any device that folds flat and stows easy.
The stand also sets up in multiple positions. The cusions keep the device from moving or slamming into the 3Feet. The charger opening also allows for easy charging while standing.
Use 3 Feet to stand a device up on a plane or in a meeting. If you have a digital picture frame, 3Feet can be used to hold them on a shelf or table. It even makes good in holding up an old tablet (you know, the ones that actually hold paper…)
Interview by Jeffrey Powers of Geekazine
Get your 14 day Free Trial of Audible Gold to start Listening to great Books!
GoDaddy services saves you money! New Customers Save 25% Promo Code CES25.
Podcast: Play in new window | Download
Subscribe: Apple Podcasts | RSS | More