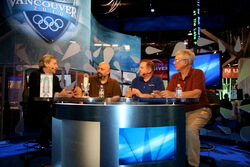 We have been booking appearances for our daily live broadcasts for the past two weeks. It is critical that if you are a vendor attending CES, that if you want to appear at our studio in South Hall that you apply today. There is no charge for the appearance.
Companies that have new and innovative products, we really want you to apply to appear. We are saving some of our prime coverage time frames just for you. Companies like Ford, Iomega, Orb, iLuv etc have already locked in their appearances. Get you application submitted today so that we can get you booked.
CES Coverage Veterans like Todd Cochrane from Geek News Central, Andy McCaskey from SDRNews and Jeffrey Powers from Geekazine along with 3 other affiliate shows will be manning our live broadcast studio to get your products seen by our millions of CES followers.