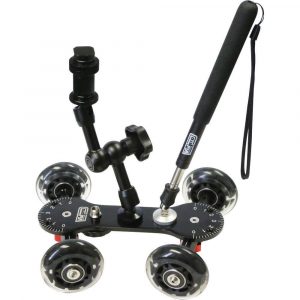 Known as one of the leading innovators when it comes to video and photography products, VidPro recently launches new DSLR camera stabilization gears for all you photographers and videographers out there.
Whether you're a professional or simply just a hobbyist, VidPro's video and photography equipment will take your shots into a different level. One of these is the Skater Dolly, which is a roller skate device where you can mount in your DSLR cameras or video camcorders. Currently available at Amazon at just $69.95, this VidPro DSLR and video camcorder gear comes with an articulating arm and extendable handle, enabling you to gain 360 redial and straight line dolly motion.
Coming out this March, however, is the new VidPro camera slider dolly, wherein you put your DSLR camera or video camcorder into the slider and can simply slide it back and forth to the left or right for very smooth, cinematic motion. If you think that this slider dolly is too bulky, VidPro also offers another slider dolly, which is the video stabilizers. Sure, your DSLR cameras or video camcorders might have stabilization built in, but VidPro's is handheld where you get a lot more stabilization as it has weights on the bottom. Short, small, and handy but provides more stabilization and smooth, cinematic shots.
If you want to step it up, VidPro has a stabilization gear that has a bit more weight and a slightly different design and handle. Although it is heavier than the other two, this stabilizing gear has a handle that, no matter how or which direction you move your hand, the top where your camera or camcorders are would not move. They also have another that is much heavier with the same features, but gives more stabilization for more steady shots.
Keep checking VidPro's website to learn more about these awesome stabilization gears, including their pricing and its release.
Interview by Daniel J. Lewis from The Audacity to Podcast.
[cessponsor]
Podcast: Play in new window | Download
Subscribe: Apple Podcasts | RSS | More