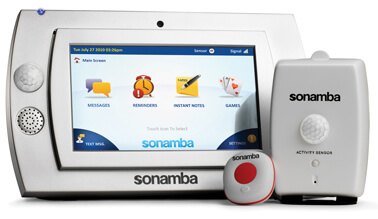 PomDevices launched Sonamba at CES 2011.  Sonamba is device made for seniors. Sonamba monitors their well-being and also keeps connected to family members and care givers.
It also provides them with medication notifications and other useful information.  There is a base unit and then various smaller devices that can be carried or placed elsewhere that can communicate with the base.  But Sonamba goes way beyond being a medical device – it has many features that will keep the user connected and updated all of the time.  Check out the video below to see all of the cool features such as remote contact, pictures, and more.
Interview by Andy McCaskey from SDR News and Tom Newman from Fogview
Please Support our CES 2011 Sponsors
Get your 14 day Free Trial of Audible Gold to start listening to great books!
GoDaddy services saves you money! New Customers Save 25% Promo Code CES25.
Sponsor: The New Luxor, Las Vegas Deals Start @ $40.00 best rates guaranteed.
Podcast: Play in new window | Download
Subscribe: Apple Podcasts | RSS | More