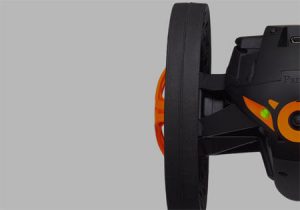 Parrot had a lot of different types of remote controlled drones at CES 2014. One of them was called the Jumping Sumo. The Sumo is a small remote-controlled device that can turn on a dime. Controlled with your smartphone or tablet, you can use two finger gestures to turn and control. The camera on the Sumo allows for 1st person view.
The jumping sumo has two large wheels that can push together for better control. It's big feature, though, is the fact you can push a button and have the sumo jump up in the air — approximately 2-3 feet up.
The sumo can also be controlled up to 160 feet away with the mobile tether. The VGA (320×240) image returns to the device so you can see what it does.
The jumping Sumo is not out yet, but you can watch for it at www.parrot.com/usa/ces/
[cessponsor]
Interview by Jeffrey Powers of Geekazine
Podcast: Play in new window | Download
Subscribe: Apple Podcasts | RSS | More