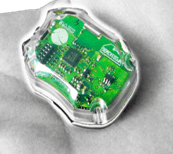 Movea is a company where you most likely won't hear of the name, but you use their products. Gyromouse is one of these products.
Movea takes care of the motion sensors inside some of your electronics. Screen pointers may use their technology to work. But Movea is working on some pretty cool stuff outside of that.
Imagine a golf club that you could pair with a computer to track your swing. Maybe a baseball bat, helmet, ball or other item. It could be connected to a car.
If you have an iPhone4, you can download their app ($1.99) to turn your phone into a gyroscopic mouse.
In this video, we take a look at the Motion Pod and how it could be connected to everyday items.
Interview by Jeffrey Powers: Geekazine
Get your 14 day Free Trial of Audible Gold to start Listening to great Books!
GoDaddy services saves you money! New Customers Save 25% Promo Code CES25.
Podcast: Play in new window | Download
Subscribe: Apple Podcasts | RSS | More