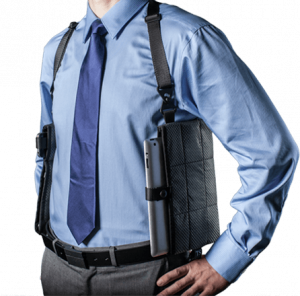 It's not often that something will make Health Tech Weekly host Jamie Davis, the Podmedic stop in his tracks at a conference and say "I Want That!" The Techslinger booth got him to do that at CES 2015 in Las Vegas. The Techslinger is a sling that is like a shoulder holster for your mobile technology devices.
Jamie interviews Tresha K. Davis from Techslinger.com about the unique mobile technology tool that could be used by a doctor or other professional near you soon as a way to easily carry their mobile devices around with them and keep their hands free to do the work they need to do the rest of the time. Instead of carrying around a separate mobile laptop bag or shoulder bag to hold your tablet phone and assorted cables, you can just wear the Techslinger harness you're good to go! Find out more at Techslinger.com.
Make sure you follow Jamie's picks and coverage over at HTWeekly.com and the Tech Podcasts Network live CES 2015 coverage over at TPN.tv during the show where our entire CES team will be bringing you the best, the most innovative, and newest tech gadgets to you from the conference! And don't forget to check out his shows for at NursingShow.com, MedicCast.tv, and the brand new Health Tech weekly show at HTWeekly.com.
Podcast: Play in new window | Download
Subscribe: Apple Podcasts | RSS | More