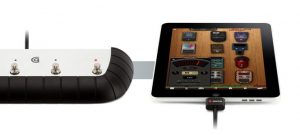 The Griffin Stompbox is a must for guitar players, whether you are a professional or amateur.
I wish I could play the guitar and use the cool features in this device.  I had to look on in awe as I watched the people coming and going playing with the stompbox at CES.
The stompbox allows you to use your iPad to change guitar effects. Griffin uses the iPad app "iShred Live" with its stompbox.  This device is available soon for $99.99.
I also got to see the "Slap" for the first time. Its an wrist band, which makes a wrist-watch of your iPod nano. The "slap" is available now on Griffin's website.
Get your 14 day Free Trial of Audible Gold to start Listening to great Books!
GoDaddy services saves you money! New Customers Save 25% Promo Code CES25.
Podcast: Play in new window | Download
Subscribe: Apple Podcasts | RSS | More