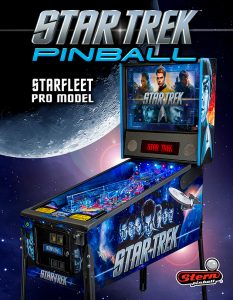 Pinball machines are making a huge resurgence in both arcades and home game rooms. They are also a great example of a healthier gaming experience since you play them standing up. Health Tech Weekly host Jamie Davis, the Podmedic got the chance to stop by the Stern Pinball booth and chat with founder Gary Stern about the latest offerings from his company.
Pinball games associated with popular entertainment properties like the Avengers, Star Trek, and Spiderman make the gaming experience more fun for the player. For the home enthusiast, the Stern Pinball company now offers not only a full line of commercially operated pinball games for arcades, bars and other businesses, they also have a full line of home-based machines. These large sized home pinball games offer many of the features from the larger machines including a full-sized playing area, professional bumpers, flippers, sling-shots, and more!
Find out more about how you can get one of these awesome machines for your home game room or entertainment center. Visit the folks at SternPinball.com for more information and pricing.
[cessponsor]
Find more segments from the Digital Health Pavilion at CES 2014 both here and at the Health Tech Weekly podcast site with host Jamie Davis, the Podmedic.
Podcast: Play in new window | Download
Subscribe: Apple Podcasts | RSS | More