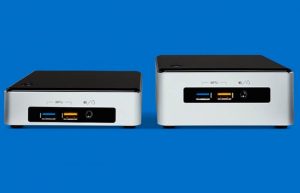 In a screening at Intel's suite, the company showed off their latest Next Unit of Computing devices, or NUCs. These super tiny PCs feature the latest Core i3, i5 and i7 Broadwell processors, with some of them even running Braswell chips, all within a 4-by-4 design.
This latest series of NUC has ditches the mSATA storage interface and moved into M.2, allowing for lightning fast read and write speeds to the disk. USB 2.0 ports are also a thing of the past, and the NUCs all feature USB 3.0 ports only. Some of the higher-end models also feature a mini-DisplayPort v1.2 output, giving the ability to connect three monitors to this mini PC. All of this power packed into such a small frame means that it can not only replace your home theater PC, but could easily replace most users' desktop PCs.
There are three distinct enclosures for the NUC, depending on which processor you select. The two that will be commonly sold are 115mm x 111mm wide and are either 29.8mm or 48.5mm tall. Your differentiator there is going to be whether or not you want to fit a 2.5″ SSD inside the NUC.
What I found most intriguing was the customizable lids that can be interchanged on the NUC. One of the prototypes on display was a Hauppauge TV tuner that was attached to the top of one of the NUCs, allowing full TV capture and playback, built right into the top of the PC. There was also a NUC that wore a lid that had NFC capability built into it, and Intel said there would be another dozen or so lids to choose from in the near future, with hopes that more partners will join in to create other lid styles.
One surprise was saved for the end, and that was the Intel Compute Stick. Donning Windows 8.1 with Bing, 32GB of storage, 2GB RAM and a Baytrail processor all within a device that can fit in your pocket, the Compute Stick can plug into any TV or monitor. Intel looks to sell this extremely compact computer for only $149.
Interview by Nicholas DiMeo of F5 Live: Refreshing Technology for the Tech Podcast Network.
Sponsored by:
From laptops and Lumia to Surface and Xbox, get it at the Microsoft Store.
Welcome to the Eureka! Factory, where great programs, projects, events and creative spaces and places happen!
Follow F5 Live: Refreshing Technology on Twitter: PLuGHiTzLive; Facebook: F5 Live; Google+: PLuGHiTz Live
Podcast: Play in new window | Download
Subscribe: Apple Podcasts | RSS | More