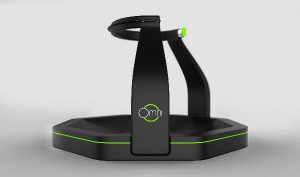 There's been a push in the gaming industry lately for a more immersive experience while you play. Sure, the Kinect does a great job and the 3DS makes looking at games a little more enticing, but what if you could get your whole body into it? Well, get ready to "enter a new world" with Omni.
Omni is an omni-directional treadmill-like device that allows a player to run, jump and walk in 360-degree virtual environments. With active sensors attached to the bottom of a pair of specially-designed shoes, the software and hardware detect what the player is doing, and based on how fast they move, it reflects that in the game. The player is also secured to an Omni Harness, which allows the user to stay within the confines of the walking surface.
The experience is further enhanced by a virtual reality headset, like the Oculus Rift. The Omni, however, is not tied down to one VR device, and instead can work with many of the devices currently in the market.
Out of the box, two games that were both developed in-house comes with the Omni. One of them is a training simulator, not only prepping you to take on the real baddies in Omni's Shadow Ops game, but also teaching you how to actually use the hardware. Popular games also work with the device, as the Omni is just a game controller. It only takes ten minutes to put the handful of pieces together and you can be off and running, literally, in no time.
The Omni is currently available for pre-order at $699 and comes with everything you need to get started. All you have to do is enter shoe and harness size and the Omni, upon release, will be delivered to your doorstep.
Interview by Nicholas DiMeo of F5 Live: Refreshing Technology for the Tech Podcast Network.
Sponsored by:
From laptops and Lumia to Surface and Xbox, get it at the Microsoft Store.
Welcome to the Eureka! Factory, where great programs, projects, events and creative spaces and places happen!
Follow F5 Live: Refreshing Technology on Twitter: PLuGHiTzLive; Facebook: F5 Live; Google+: PLuGHiTz Live
Podcast: Play in new window | Download
Subscribe: Apple Podcasts | RSS | More