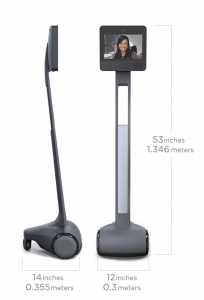 If you want a unique and totally different interview, you have one right here. Nick stands with a Beam, a product by Suitable Tech that brings real human interaction to a robot. Beams are controlled by pilots, which are simply people who control the Beam. Standing at about five feet tall, a full, crystal-clear display sits on top of the Beam, along with 360-degree cameras (even one at the bottom of the Beam) and two microphones, allowing the pilot to see and hear everything going on at the Beam's location.
Beam is easy to use. Simply grab a laptop and connect to your Beam via WiFi, then all you have to do is control the device with your arrow keys. The Beam also has many uses. If you simply want to not be tired while roaming the show floor at CES, the Beam is perfect for you. Or, if you're needing to always monitor activity at your grandmother's house, the Beam can move around with her as she goes about her daily routine. While some may be okay with having Facetime or Skype on their phones, the mobility and personality of a Beam is what makes it so special.
Battery life on a Beam is about eight to ten hours, and comes with a docking station that it moves into to charge. While charging, the Beam is fully functional and communications can still take place. A hefty price tag of $19,995 will get you a Beam+ and allow you to teleport wherever you decide to ship it to.
Interview by Nicholas DiMeo of F5 Live: Refreshing Technology for the Tech Podcast Network.
Sponsored by:
From laptops and Lumia to Surface and Xbox, get it at the Microsoft Store.
Welcome to the Eureka! Factory, where great programs, projects, events and creative spaces and places happen!
Follow F5 Live: Refreshing Technology on Twitter: PLuGHiTzLive; Facebook: F5 Live; Google+: PLuGHiTz Live
Podcast: Play in new window | Download
Subscribe: Apple Podcasts | RSS | More