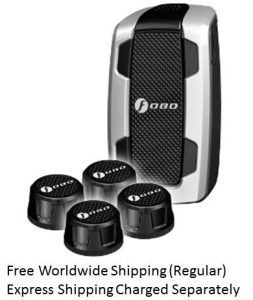 Nick DiMeo from F5Live.tv and Jamie Davis, the Podmedic from Health Tech Weekly got the chance to sit down and chat with Kevin Tan from FOBO Tire in the TPN.tv podcast studio booth at CES 2015 in Las Vegas. Kevin brings another Indiegogo campaign product to the booth, reinforcing the power that crowd funding resources like Indiegogo has brought to the consumer electronics marketplace.
FOBO Tire is an advanced Tire Pressure Monitoring System (TPMS) using latest Bluetooth 4.0 that works directly with your Android and iOS device. It also comes with an intelligent In-Car monitoring unit that works on its own or simultaneously with your smart phone. So that you will still get an alert in the absence of a smart phone. Comes with 4 tire sensors and 1 in-car unit.
Find out more about the FOBO Tire system here.
Make sure you follow Jamie's picks and coverage over at HTWeekly.com and the Tech Podcasts Network live CES 2015 coverage over at TPN.tv during the show where our entire CES team will be bringing you the best, the most innovative, and newest tech gadgets to you from the conference! And don't forget to check out his shows for at NursingShow.com, MedicCast.tv, and the brand new Health Tech weekly show at HTWeekly.com.
Podcast: Play in new window | Download
Subscribe: Apple Podcasts | RSS | More