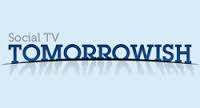 Mick Darling of Tomorrowish joined us for the TPN CES live broadcast. Tomorrowish is a social media DVR in context of the time it was posted. You can watch a show, then see what people tweeted at the time of the video they sent it.
The embedded social network is curated by tomorrowish. They could see how the tweet matches with the content for spamming, or to see if a celebrity is watching and tweeting.
This can turn a video into a commentary. Although it doesn't translate, the system works in 56 different languages. Tomorrowish works with TV stations like TruTV and Fox to give a layered screen experience. They also are partnered with Hulu.
More information at Tomorrowish.com
[cessponsor]
Interview by Jeffrey Powers of Geekazine and Chris Montera of Health Tech Weekly
Podcast: Play in new window | Download
Subscribe: Apple Podcasts | RSS | More