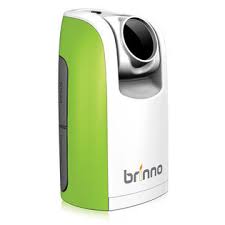 Chris Adams from Brinno joined us on the TPN CES live broadcast.  Brinno is an HDR time-lapse camera that can record at multiple fps rates. If you want to watch a sunrise or sunset, conference time-lapse, Skate park, or whatever you decide, the Brinno can record it.
Brinno works on an SD card and 2 double-A batteries. The battery life is really good for the device – lasting a full day (depending on the frame rate). You can also attach different lenses to the camera to get the right shot.
TLC-200 is only one of a few products including peep hole viewer, motion activated security camera, and more.
Brinno starts at $139 at Amazon. For more information, check out Brinno.com
[cessponsor]
Interview by Jeffrey Powers of Geekazine and Don Baine of The Gadget Professor
Podcast: Play in new window | Download
Subscribe: Apple Podcasts | RSS | More