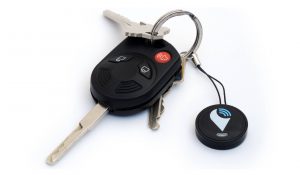 Chris Montera, the Geekymedic, checked out some of the products and services at CES Unveiled including the StickR TrackR from Button-Trackr.com. If you lose things around your house or office frequently the Stickr Trackr might just be the perfect gadget for you.
StickR TrackR enables users to locate any lost item in seconds using their iPhone or Android smartphone. Attach the coin-sized StickR TrackR device to any commonly misplaced item such as keys, purses, wallets, and more. The app automatically tracks where your items are so you can stop stressing about staying organized and stop wasting time looking for lost items.
Best of all, you can home in using the app and cause the TrackR on the device to chirp so it's easier to find. The app will also tag the last known location on a map and notify you if it is moved. And, lost or stolen items can be found even more quickly because the lost item will show up on other's smartphones with the app installed, notifying them that the object has been reported lost.
You can find more at Button-Trackr.com and get your own StickR TrackR for your valuable stuff!
[cessponsor]
Find more segments from CES 2014 both here and at Health Tech Weekly with host Jamie Davis, the Podmedic.
Podcast: Play in new window | Download
Subscribe: Apple Podcasts | RSS | More