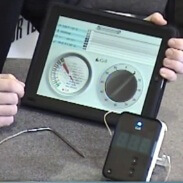 Jonathan Conelias from iDevices joined the CES Live show. He showed off a new product – the iGrill. It's a thermometer you can observe through your mobile device.
The iGrill Application is only available for iPad /  iPhone, but an Android version is in the works. You insert the thermometer sensor into the meat, then connect to the iGrill. Connect via the mobile device and you can tell how done your Turkey, Roast or other meat is.
The iGrill application also comes with some great recipes, so if you don't know how to cook that bird, or want a good side dish, you can just look it up.
Interview by Jeffrey Powers of Geekazine and Tom Newman of Fogview Podcast
Get your 14 day Free Trial of Audible Gold to start Listening to great Books!
GoDaddy services saves you money! New Customers Save 25% Promo Code CES25.
Podcast: Play in new window | Download
Subscribe: Apple Podcasts | RSS | More